The Garrett Ace 350 Metal Detector was designed by Garrett for a low cost yet effective relic hunting detector. A few years ago their relic hunting arsenal of detectors was a bit lacking. The only machines that were effective were the GTI 2500 and the Infinium. They had advertised the Garrett Master Hunter for many years as their top end relic detector. They discontinued this a few years ago and left a big hole in the line up for relic hunters.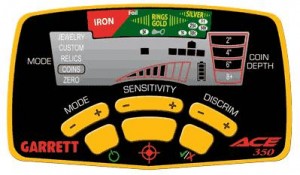 Then a couple of years ago they unloaded two relic machines at one time instantly filling this void. The two detectors were the Garrett AT Pro and the Garrett Ace 350. Both came stock with a new large DD 11″x 8.5″ search coil with blunted tip and tail, yielding  better depth than a typical DD coil. The Ace 350 also has a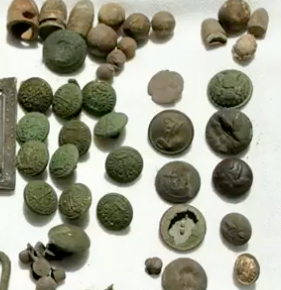 higher frequency output at 8.25 kHz rather than the Ace 250 operating at 6.5 kHz. This will allow it to be a bit more sensitive to low conductors in the relic niche but not as high of a frequency as the At Pro, at 15 kHz.  This frequency is not optimal for nugget hunting as is for the AT Pro, but this is a great low cost performer frequency for the Ace 350 for relic hunting.
Let's not forget this machine is also great for coin, jewelry, and dry beach hunting. And with the DD coil will perform effectively in hot soil. Another great feature of this detector compared to it's cousin the Ace 250 is the added iron segments or iron resolution with 4 segments which allows more iron discrimination. A great feature for relic hunters!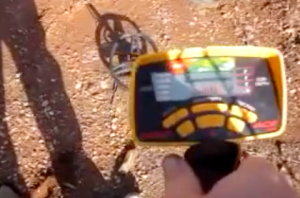 Swinging the Ace 350 is almost a perfect balance at only 2.8 lbs. It gets much better depth than the Ace 150 and 250 and has a faster target response than the other two. I have used this detector in Georgia for relic hunting, coin hunting and around some lakes looking for jewelry and on the beaches in Florida looking for pretty much anything of value. It has worked well in all areas and for the cost of only $100 more than the Ace 250, it is worth it in my my book.
If you are a relic hunter using a Fisher F75, Garrett AT Pro, Minelab X-Terra/Safari or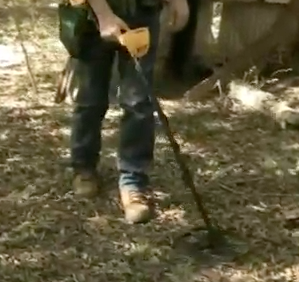 any Whites or Tesoro metal detector, this Ace 350 is a unbelievable backup to your high end main metal detector or as a grab and go machine. Leave it in your trunk as you come across  potential detecting spots while going to work or driving around town. If you do not want to leave your $1000 detector in your vehicle, then the Ace 350 is for you. This is what I use mine for. I also use it to test a new site first before bring in the big guns for a potential relic site hunt.
In conclusion, this Ace 350 is low cost, designed for just that – a low cost relic hunting metal detector that will find coins and jewelry and with a great target ID display. It can be used as your main detector or as a supplement to a more expensive detector. By itself it is a fantastic competitor, and used in conjunction with a high end detector, this is a deadly combo in the relic hunting niche.