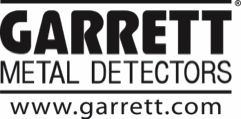 Garrett bags and backpacks will help you store, carry and keep clean your metal detector. I would recommend storing your Garrett detectors in a Garrett soft case that also can carry and store Garrett accessories. This soft case can be carried easily on a hike to your preferred detecting ground.
A Garrett backback daypack (see below) is my go to carry bag out in the field, especially with the Garrett ATX which calapses to a small size and fit into the backpack easily. Plus your arms wil be free while you hike. It also has plenty of room for headphones, spare coils or other detecting accessories you might need in the field.
Garrett Bags and Backpacks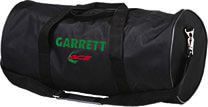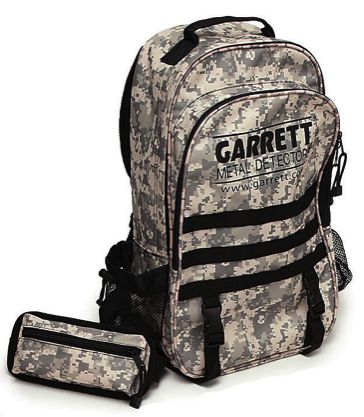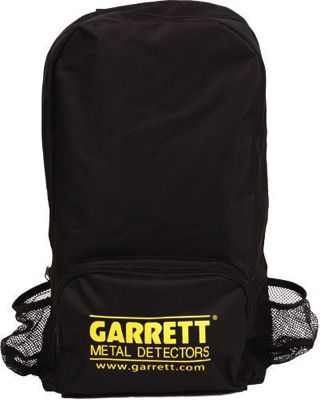 Garrett All-Purpose Backpack
PN: 1651700.....$14.95
Approximately 21" interior height x 13" width. Will hold a disassembled Garrett metal detector. Includes: adjustable straps; zippered front accessory pocket; interior searchcoil pouch; pair of side pouches to hold drinks.
Garrett Detecting Daypack
PN: 1626800.....$59.95
Approximately 19" interior height x 13.5" width. Adjustable straps; padded for comfort in the field.
• Two zippered compartments to store spare coils, accessories, snacks, etc. for field use.
• Three interior pockets (two zippered), plus internal hook for attaching car key ring.
• Sternum strap with quick release buckle.
• Waist strap with utility pouch (to hold smart phone, treasure finds, sunglasses, etc.).
• Two mesh exterior pockets for drinks, etc.
• Exterior MOLLE-type webbing grid for attaching accessories.
• Exterior straps to secure jacket, extra clothing.
Camo Pouch 18 inch Extender (sold separately) See pics below
PN: 1613000.....$2.50

For use with Garrett Camo Digger's Pouch or Detecting Daypack
Soft Case, Universal Detector
$84.95 (choice of 2 colors)
Digital camouflage
PN: 1616901
Tactical (black color)
PN: 1616900
Padded travel/storage bag, 50" length with full zipper opening, carrying handle and backpack straps.
Stow and go—Holds any current Garrett detector without removing the search coil!
All-Purpose Carry Bag
PN: 1608700.....$29.95
Reinforced polyster, 50" length with two zipper pockets. Includes convenient shoulder strap and carrying handles with padded handpad. Sized to hold any current Garrett detector without removing searchcoil.
ACE Sport Tote Bag
PN: 1651500.....$14.95
Approximately 23" length with shoulder strap and carrying handles.