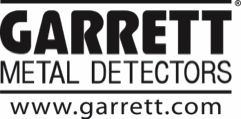 Finally it has arrived! A new gold prospecting metal detector from Garrett -
The new Garrett ATX Extreme Pulse Induction detector!
Tired of trying to save up for a Minelab GPX 5000? Or especially now the Minelab GPZ 7000 at $10,000? Yea, I know what you mean. Now Garrett has introduced a pulse induction detector for gold prospectors that will find the tiny little pieces of gold and gold at great depths for less than half the price of the Minelab!
The Garrett ATX operates at 730 pps and seems to not need a high pulse rate to get extreme sensitivity like the Minelab thanks to Garrett's exclusive DD coil design. Another great feature is no external bettery pack! The entire detector with the stock 10" x 12" DD coil weighs in at just 6.5 lbs!
This detector is water proof to 10 feet, it has other features such as Motion and Non-Motion Modes: providing top performance based on hunting style and conditions. Fully Collapsible: the Garrett ATX can be used with its searchcoil stem fully extended, fully collapsed, or anywhere in between. Quick Iron Check feature and adjustable Discrimination. See my enitre video series I have filmed regarding the Garrett ATX and its capabilities here on my YouTube channel.
Other features:
• Ground Track with 4 settings: Chose setting that best handles
rapidly changing ground mineralization.
• LED Indicators: show signal strength and current settings.
• External Speaker: built in for option to search without headphones. • Frequency Scan: auto function for eliminating RFI interference.
• Audio retune: quickly cancel out unwanted ambient signals.
For more info, Here is our latest blog post about this new Garrett ATX detector.
Whats the price on such a detector? MSRP is $2120.75, MSRP for the ATX Deep-Seeker pack $2546.55
To find out if there is a sale price or lower price on this detector send me an email, or call me at 678-613-6642.
What is the smallest gold nugget the Garrett ATX will find? From my experience it will find down to a .08 gram nugget. That is smaller than .1 gram. It will find it with either the stock DD 12"x10" coil or the 8" mono coil. Performance will vary in extreme ground.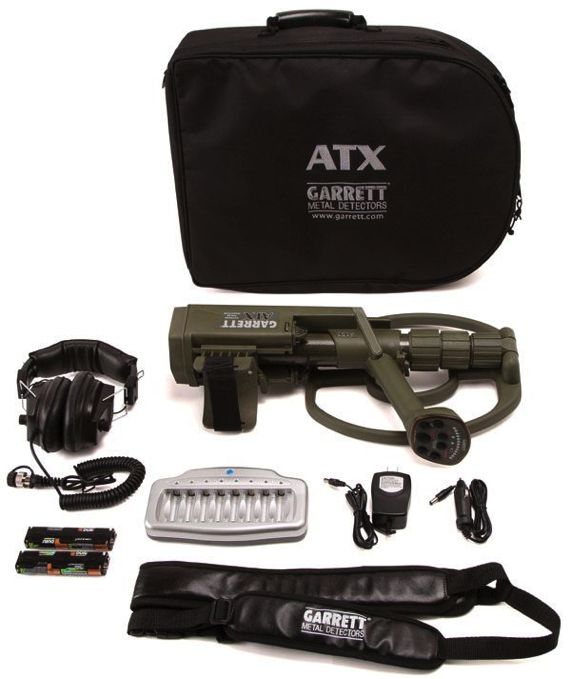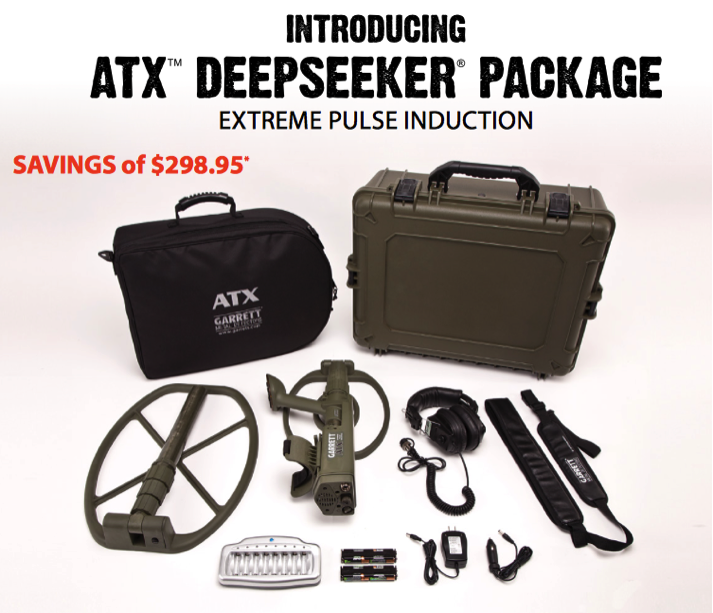 Videos of the Garrett ATX Extreme in Action...
Optional ATX Searchcoils
Standard ATX Searchcoil
10" x 12" (25 x 31cm) DD Searchcoil
PN: 2234600.....$529.95
Deepseeker® 15" x 20" (38 x 50cm)
Mono Searchcoil
PN: 2234100.....$599.95
Use for locating larger and more deeply buried objects. Includes surface debris elimination.
8" (20cm) Mono Searchcoil
PN: 2234000.....$529.95
Excellent depth on small targets. Enhanced maneuverability in heavy scrub and tight areas.

Order ATX Deep-Seeker Pack